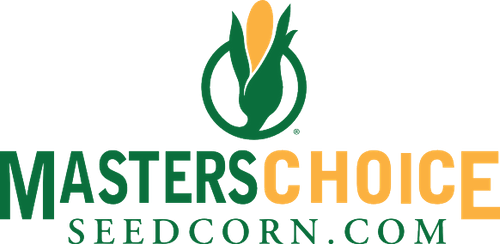 Advanced Crop & Nutrition is excited to introduce you to Masters Choice Seed Corn. Our new partnership with Masters Choice Seed allows us to bring the livestock/corn industry in northwest Iowa, southwest Minnesota and southeast South Dakota this highly-digestible, floury corn, that will add positive production with greater returns.
Masters Choice is a family-owned company that has been in operation for over 30 years. Based out of southern Illinois, Masters Choice is working to make the agricultural industry more efficient, particularly in how livestock is fed. Their passion for corn and corn hybrids is changing the landscape of livestock operations and making a positive, industry impact on feed efficiency. It is their firm belief that the key to feeding a growing global population is increasing the efficiency of production and quality on farms across the world, so they have set out to make a significant difference in how countries around the world feed their people. Masters Choice has found that feeding a softer textured grain, with increased feeding values, can result in up to 50% increased efficiency on a dairy operation.
Corn hybrids are industry leaders in nutritional qualities and are second-to-none in yield and performance. This is what sets Masters Choice apart from other seed corn companies. The Masters Choice lineup is filled with hybrids that feature floury digestible grain along with high fiber digestibility for total plant digestion in ruminant animals. Through the Masters Choice hybrid selection process, new hybrids are screened for superior agronomic qualities and yield along with nutritional qualities. The Masters Choice program tests new hybrids in plots around the United States and Canada to find the new top variety of corn that will excel on your farm. They have yields that will rival any corn hybrid in the marketplace. These hybrids are selected specifically for use on livestock farms.
Masters Choice hybrids are well-known as industry leaders in corn silage, but the hybrids have great versatility. Many of the top hybrids for corn silage also work well for dry grain and high moisture corn applications. The Masters Choice lineup is filled with flex and semi-flex hybrids. These hybrids perform best at moderate-to-lower populations. Flex and semi-flex hybrids allow the stalks and ears to flex, producing high silage yields with high fiber digestibility and excellent feeding quality.
Masters Choice hybrids also have great late-season intactness and standability. The agronomic package provides great versatility for these hybrids.
ACN is pleased to partner with Masters Choice and help them in this goal. Through their livestock focus and corn hybrids, we can help by doing our part right here in northwest Iowa, southwest Minnesota and southeast South Dakota.
Masters Choice specializes in corn hybrids and floury grains. ACN is proud to bring this technology to northwest Iowa, southwest Minnesota and southeast South Dakota.
In the United States, livestock is the largest consumer of corn. In fact, nearly 40% of all corn grown is fed to livestock. Nearly all the corn hybrids sold in the U.S. were developed for the once-booming export market. But those days are long gone, with exports making up less than 13% of the modern marketplace. As such a large part of the American agricultural economy, shouldn't corn be bred especially for livestock operations? Masters Choice thinks so.
Floury grain provides many benefits. Masters Choice floury grain has up to 15% more available energy than standard corn hybrids due to its higher digestibility. A slower rate of passage is another contributing factor to the higher digestibility of Masters Choice floury grain, as it stays in the rumen up to twice as long as harder, slicker industry hybrids, even when both are ground to a fine dust.
Another benefit of floury grain is the increased microbial yield being associated with floury corn hybrids. These microbial proteins greatly contribute to milk production on dairy operations.
Masters Choice breeds unique hybrids that make a difference on your farm.
Their hybrid lineup, ranging in maturity from 75 days to 117 days, is the result of decades of research and development. At Masters Choice, the journey for a new hybrid to make the lineup is more complicated than at most places. Like competitors, Masters Choice carefully screens all potential hybrids for yield and agronomics. After those stages, their experimentals go through rigorous nutritional testing in an MPG Index. Only hybrids that demonstrate top-end yield, superior agronomics and elite nutritional characteristics make it into this lineup.
You can have confidence that these products are some of the most researched and proven hybrids available on the market.
Masters Choice takes pride in their employees and the hard work they put into the company. They produce weekly educational and entertaining videos and podcasts.
MC Daily
MC Daily is a weekly video that gives consumers a behind-the-scenes look at the daily operations of Masters Choice. Their employees make these videos fun and entertaining while also educating people about the work that Masters Choice does.
MC Minutes
MC Minutes is a video series that are shorter and more informational than MC Daily. The videos average two minutes long and deliver to-the-point information on relevant topics in agriculture.
MC Podcast
MC Podcast is an audio series with new episodes released every Monday. Here they analyze current trends and topics in agriculture. They also post highlight videos of their podcasts on their YouTube channel.
Day-To-Day Blog
Masters Choice writes a blog where consumers can read about the day-to-day operations at Masters Choice, as well as the hot topics that come up in farming. The blog is a place where employees can write down their thoughts, insights and observations about the industry.
Follow Masters Choice on social media: